COVID-19: Oxford vaccine is up to 90% effective in preventing coronavirus, tests show
The vaccine, codenamed AZD1222, was developed at Oxford University with support from the pharmaceutical giant AstraZeneca.
The Oxford vaccine is up to 90% effective in preventing COVID-19, according to tests on thousands of volunteers.
The result compares with the Pfizer and Moderna vaccines, which were recently shown to be 95% and 94.5% effective respectively.
The vaccine, codenamed AZD1222, was developed at Oxford University with support from the pharmaceutical giant AstraZeneca.
Live COVID-19 updates from the UK and around the world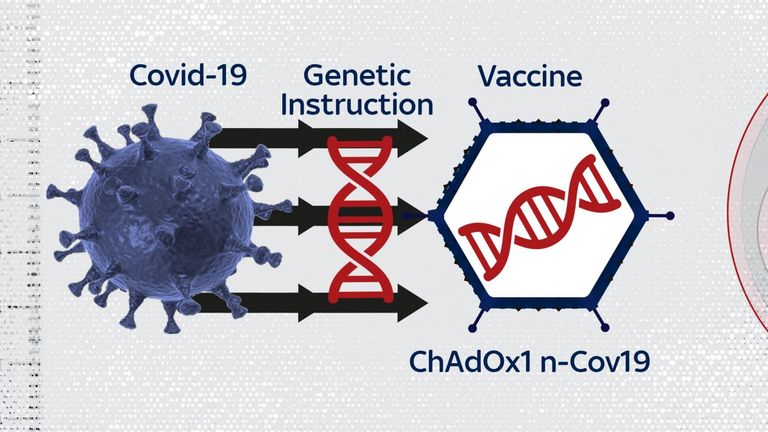 Image:The Oxford vaccine is based on another virus, which has been adapted to carry a payload from the coronavirus
"We have a vaccine for the world," Professor Andrew Pollard, chief investigator of the Oxford Vaccine Trial at Oxford, said.
He added: "It's a really exciting day."
For one course of dosing - where people were given a half dose of AZD1222, followed by a full measure at least a month after - there was an efficacy rate of 90%.
When two full doses were given at least a month apart, the Oxford inoculation had an efficacy of 62%.
A total of 2,741 people were on the course that proved 90% effective, while 8,895 were given two full doses.
When all the results are tabulated, the average efficacy of the vaccine works out to 70%.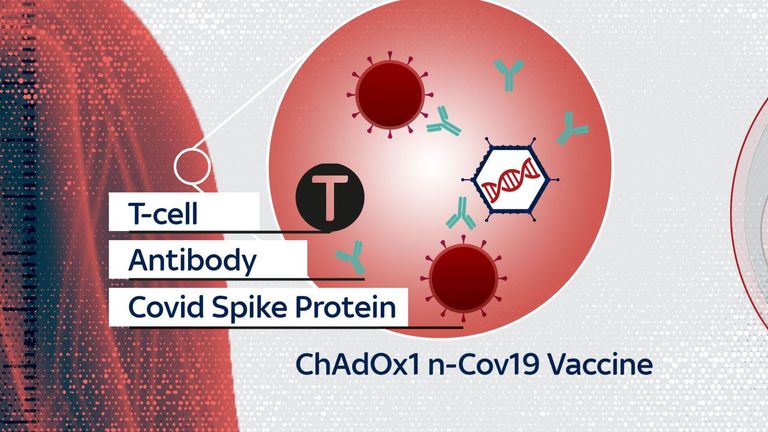 Image:When the vaccine is injected, the immune system responds by producing antibodies and T-cells
Professor Pollard went on: "We think that by giving smaller first dose we are setting up the immune response better to respond. We will dig in more to that. We have started work this morning."
He added: "It's critical to understand what everyone is measuring. What counts as COVID disease varies between different protocols.
"If you are only counting hospitalisations then we would have bigger efficacy. We count mild disease and that is much harder to protect against."
The results will be submitted to a scientific journal for peer review within 24 hours.
Speaking to Kay Burley this morning, Health Secretary Matt Hancock said: "This is really encouraging news of the Oxford-AstraZeneca vaccine that obviously we've been backing since the start.
"I'm really very pleased, I really welcome these figures."
Mr Hancock added that he was expecting the information to be sent to the regulator to make sure it is safe.
He added: "We've got 100 million doses on order and should all that go well, the bulk of the rollout will be in the new year.
"So having two vaccines that appear to have effectiveness, done right, in the 90% range is really really good news. Fantastic news."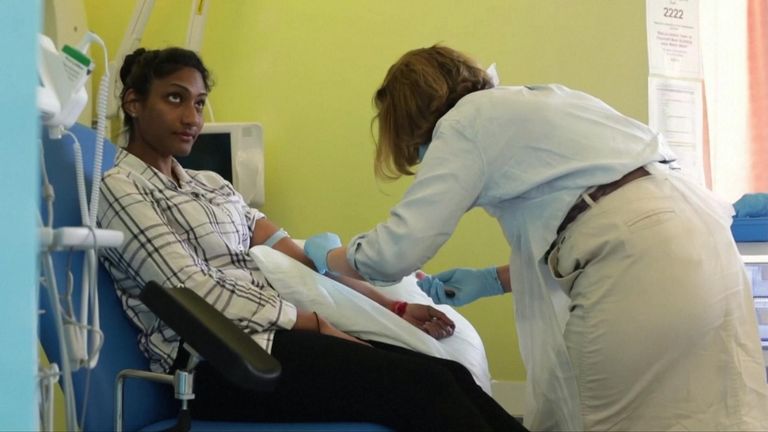 Play Video - Inside the Oxford vaccine trials
Inside the Oxford vaccine trials
According to Professor Sarah Gilbert from Oxford, there was a reduction in transmission following administration of the inoculation.
She said: "We are seeing reduction in asymptomatic infections.
"It looks like the vaccine is protecting against severe disease and mild disease - that it is going to make a big difference to transmission. It is good news all round."
Prime Minister Boris Johnson tweeted: "Incredibly exciting news the Oxford vaccine has proved so effective in trials. There are still further safety checks ahead, but these are fantastic results.
"Well done to our brilliant scientists at @UniofOxford & @AstraZeneca, and all who volunteered in the trials."
AstraZeneca has started mass production of the vaccine across 10 countries.
The company says it will have the equivalent of 20 million 'full-strength' doses in bulk form ready to be put into vials in the UK by the end of the year, and another 4 million 'fill and finished' in vials ready for distribution.
By the end of Q1 2021 there will be the equivalent of 40 million doses in bulk form in the UK.
Professor Pollard added: "These findings show that we have an effective vaccine that will save many lives.
"Excitingly, we've found that one of our dosing regimens may be around 90% effective and if this dosing regime is used, more people could be vaccinated with planned vaccine supply.
"Today's announcement is only possible thanks to the many volunteers in our trial, and the hard working and talented team of researchers based around the world."
The Oxford-AstraZeneca jab can be stored at normal fridge temperature - which would make storage and distribution much easier - compared to the Pfizer vaccine which needs to be kept at -70C.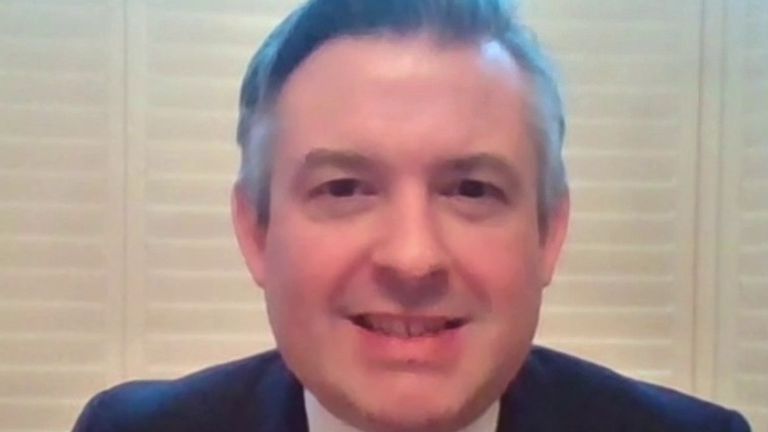 Play Video - Labour calls for dedicated vaccine minister
Labour calls for dedicated vaccine minister
The UK has pre-ordered 100 million doses, with four million expected to be rolled out by the end of the year if the vaccine is approved by the medicines' regulator.
AstraZeneca will also seek an Emergency Use Listing from the World Health Organisation, which will allow for "accelerated pathway to vaccine availability in low-income countries".
However, the share price of AstraZeneca fell following the release of the figures this morning.
Susannah Streeter, a senior investment and markets analyst at Hargreaves Lansdown, said: "AstraZeneca has been on a disappointing slide this morning, as the efficacy rates for its vaccine fell short of its rivals.
"With the bar set high by Pfizer and Moderna, even though the late stage trials were better than expected, AstraZeneca's shares didn't get a booster shot after it said efficacy results came in on average at 70%.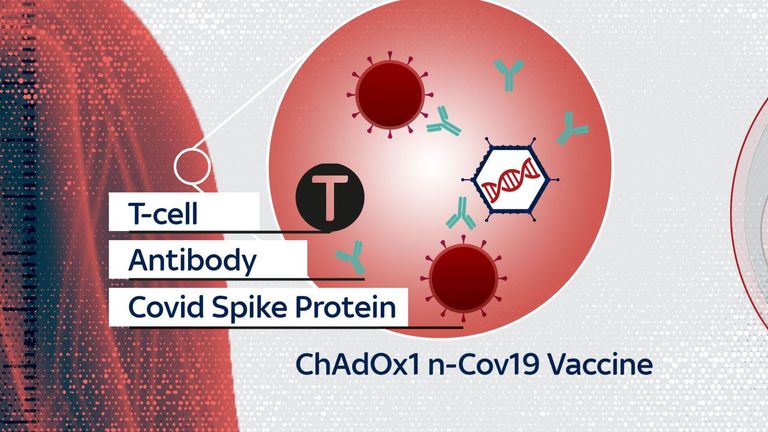 Image:When the vaccine is injected, the immune system responds by producing antibodies and T-cells
"However, depending on the doses given and the time frames between them, efficacy was as high as 90% and the vaccine is being sent for immediate regulatory approval."
The Oxford vaccine is significantly cheaper that its competitors.
AstraZeneca has said it will be made available on a not-for-profit basis until the end of the pandemic, so that it is available to all countries rich and poor.
The company's chief executive has said it will cost "the same as a cup of coffee" - that's not particularly exact, but Sky News understands it will be priced a little under £3.
This compares to reports of £15 for the Pfizer jab and £28 for the Moderna vaccine.
Professor Gilbert said: "We need multiple vaccines for the world. No one vaccine will be enough.
"We need to get a lot of people vaccinated. We need to vaccinate not just individuals, but communities and populations. We have to reduce transmission to get on top of this pandemic.
"And that's what it looks we will be able to contribute to."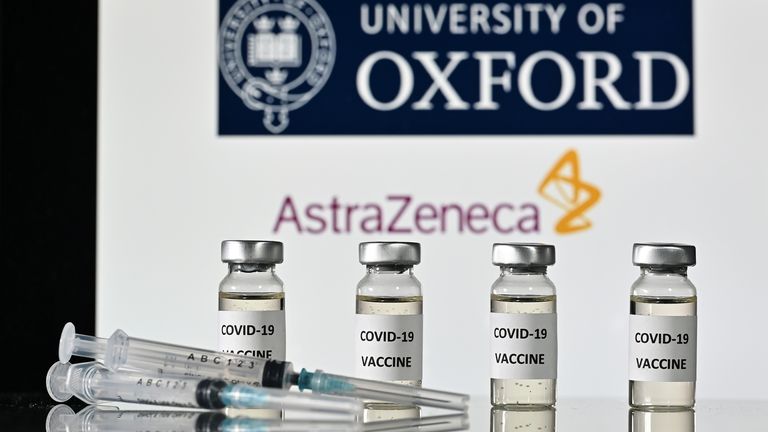 Image:The UK has pre-ordered 100 million doses of the Oxford vaccine
Professor Adam Finn, of Bristol University, helped run trials of the jab. He paid tribute to the "community spirit" of volunteers, many of them healthcare workers.
"Everyone has felt very frustrated during this pandemic," he told Sky News.
"To be able to contribute in some way to finding a solution has been a very big part of the motivation for people taking part in the research.
"It's to them that we should really doff our hats. They are the real heroes."
The vaccine is based on an adenovirus, which causes the common cold in chimpanzees.
The virus is modified so it can't cause disease in humans. It also carries an extra gene from the coronavirus .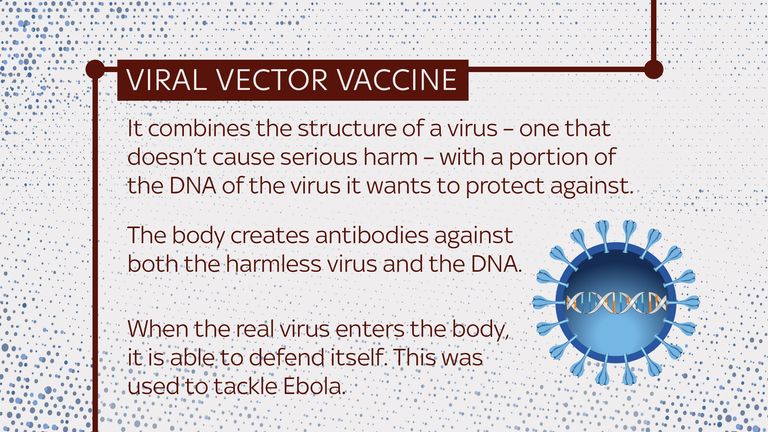 Inside the human body the gene makes the spike protein that coats the shell of the coronavirus, stimulating an immune response that protects against infection.
Professor Finn said new biotech vaccines were proving faster to develop than more traditional jabs based on inactivated viruses.
"What is surprising is that they have also worked so well," he said.
"The next challenge will be to get enough people immunised fast enough to make an impact on the virus.
"That does take time, to manufacture, distribute and get into people's arms. It's not going to happen overnight."
:: Subscribe to the Daily podcast on Apple Podcasts, Google Podcasts, Spotify, Spreaker
Lois Clay Baker, a medical student, took part in trials at St George's Hospital in south London.
She volunteered after seeing seriously ill COVID patients in intensive care.
"I think a lot of people are going to get a lot of benefit from it," she said.
"There won't be people in intensive care anymore, small things like people having relatives in hospital again and even smaller things like I can get the train again and see my parents again. I think it's going to change everything."