Future astronauts will get to remotely play with rovers in real-time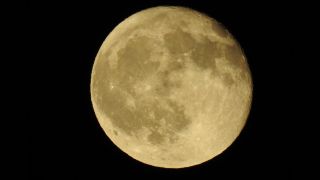 (Image credit: Future / Lance Ulanoff)
The next human visitors to the Moon will be able to share selfies with each other, thanks to Nokia's plan to equip the satellite with 4G connectivity.
As reported by CNBC, the Finnish telecommunications giant announced its intention to bring 4G to the Moon during this year's Mobile World Congress, which took place in late February and early March this year, in Barcelona.
If all goes to plan, when US space firm Intuitive Machines sends its Nova-C lunar lander later this year onboard a SpaceX rocket, it will take with it Nokia's antenna-equipped base station. The two will aslo be accompanied by a solar-powered rover, the publication cited Nokia principal engineer, Luis Maestro Ruiz De Temino.
Streaming video and beaming data
Once the hardware reaches its destination - the Shackleton crater- the rover and the lander will establish an LTE connection, De Temino explained.
While it might be fun to think the hardware will be used for selfies, in reality, Nokia hopes it will support the next manned research mission to the Moon, called Artemis 1. Astronauts will be able to use the network to communicate with each other, as well as with mission control. Furthermore, they'll be able to remote-control the rover, and stream video(opens in new tab) and telemetry data back to Earth, in real-time.
There is no concrete date on when the rocket might launch, the publication further explained, saying analysts see 2023 as an "optimistic target".
"If the hardware is ready and validated as it seems to be, there is a good chance they could launch in 2023 as long as their launch partner of choice doesn't have any setbacks or delays," Anshel Sag, principal analyst at Moor Insights & Strategy, told the publication via email.
One of the things future visitors to the Moon will be looking for is water. Apparently, there is frozen water trapped on the Moon's poles, which could be used for a number of things, from drinking, to creating breathable oxygen, to generating rocket fuel.