Secrets of Scientology: The E-Meter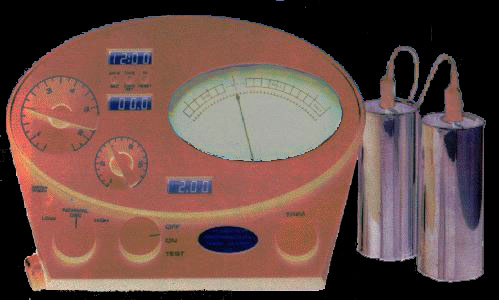 John Travolta

Priscilla Presley

Tom Cruise & Katie Holmes (parody)
Welcome to the Internet's most extensive E-Meter site. The device above is a Hubbard electro-psychometer (E-meter): a crude lie detector used by Scientology auditors (counselors) to examine a person's mental state. Scientologists claim the device allows people to "see a thought". In the hands of a trained auditor, they believe it can uncover "hidden crimes". John Travolta swears by it. And so do Jenna Elfman and Priscilla Presley. Here you will learn the truth about this device.
How The E-Meter Works
The Book Introducing the E-Meter. Gives basic data on the Mark V.
The E-Meter, chapter 14 of the Report of the Board of Inquiry into Scientology ("The Anderson Report", Victoria, Australia, 1965.)
The E-Meter, chapter 18 of Paulette Cooper's historic book, The Scandal Of Scientology.
alt.religion.scientology FAQ entry on the E_Meter.
What's a Wheatstone Bridge?, from a post by David Morning.
Biophysics and the E-Meter, by Chris Schafmeister.
How to Audit Aphids, by Perry Scott.
Jon Atack Takes Apart the Scientology E-Meter, from Tony Ortega's blog
A Study of E-Meter Frequency Response, by Perry Scott.
Fraudulent "Electrodiagnostic Devices" are described by Stephen Barrett, M.D., at his award-winning quackwatch.com web site. And check out this page on Radionics, another quack diagnostic "technology".
Testimony about the E-meter from a 2009 Scientology trial in Paris.
Electroplating and endorphins – Arnie Lerma's controversial speculations about the biological effects of prolonged exposure to the E-meter's low current.
The E-Meter Unveiled, by Chris Owen.
Examining an E-meter at the Whipple Museum of History and Science in Cambridge, England: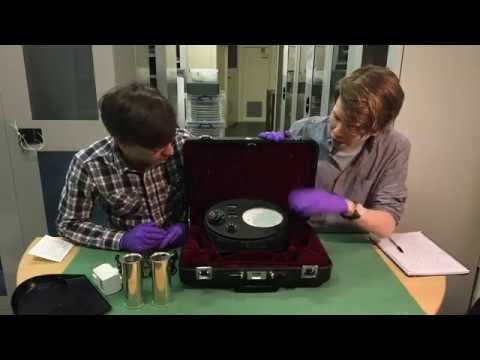 Auditor Training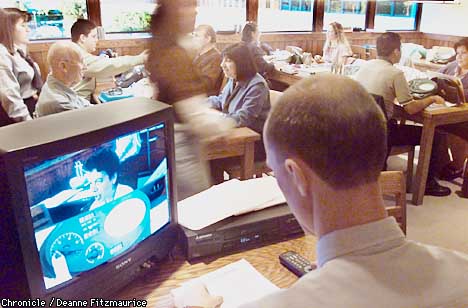 ``By itself, this meter does nothing.'' – Excerpt from a disclaimer found in every E-meter book, and on the device itself.
In this photo, a course supervisor monitors the performance of student auditors at a Scientology training facility. Notice that the meter's tone arm is worked with the thumb of the left hand; the right hand is used to take notes. Left-handed auditors must purchase a left-handed E-meter, where the positions of the dials and knobs are reversed.
Schematics for Early E-Meters
Embarassing E-Meter Facts
E-meters are assembled at "Gold Base", Scientology's armed compound in Hemet, California.The St. Petersburg Times reports it takes only 80 minutes to put one together, as the technician shown at left is doing.And for this they charge over $4,000???
E-Meter-like devices are available from sources outside the Church of Scientology at much lower prices. Rest assured, these fine products are every bit as worthless as the Scientology models. Check out this Google directory for links. But if you want a genuine Scientology E-Meter, you can purchase the "Mark Super VII Quantum™ E-Meter® pastoral counseling device" from the FLAG bookstore. Or pick up a used one on eBay.
From the "idols with feet of clay" department: even L. Ron Hubbard had "discreditable reads" (indications of serious aberration or criminality) on the E-Meter. This really ticked him off!
Here's how Scientology uses eBay's VERO program to keep ex-members from selling their E-meters. Thanks to attorney Scott Pilutik for permission to reproduce his essay (original version).
Look Inside the Mark Super VII E-Meter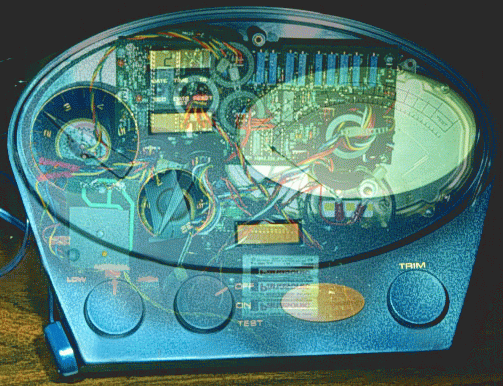 Click here for a guided tour of the Mark Super VII..
Until the release of the Mark VII Quantum model in 1996, the Hubbard Professional Mark Super VII was the latest (mid-1980s) and most sophisticated model E-meter sold. Scientology doesn't want anyone looking too closely at their "advanced" technology, but this web page offers you a guided tour of the device, with exterior and interior views including the main circuit board, charging circuit, jacks, and data plate. "Hey, it's got Intel inside!"
Here is US Patent 8,121,676 detailing some recent (circa 2003) advances in E-meter technology. Interestingly, Hubbard is listed as an inventor, although he died in 1986.
What's Next? The Mark VIII Ultra!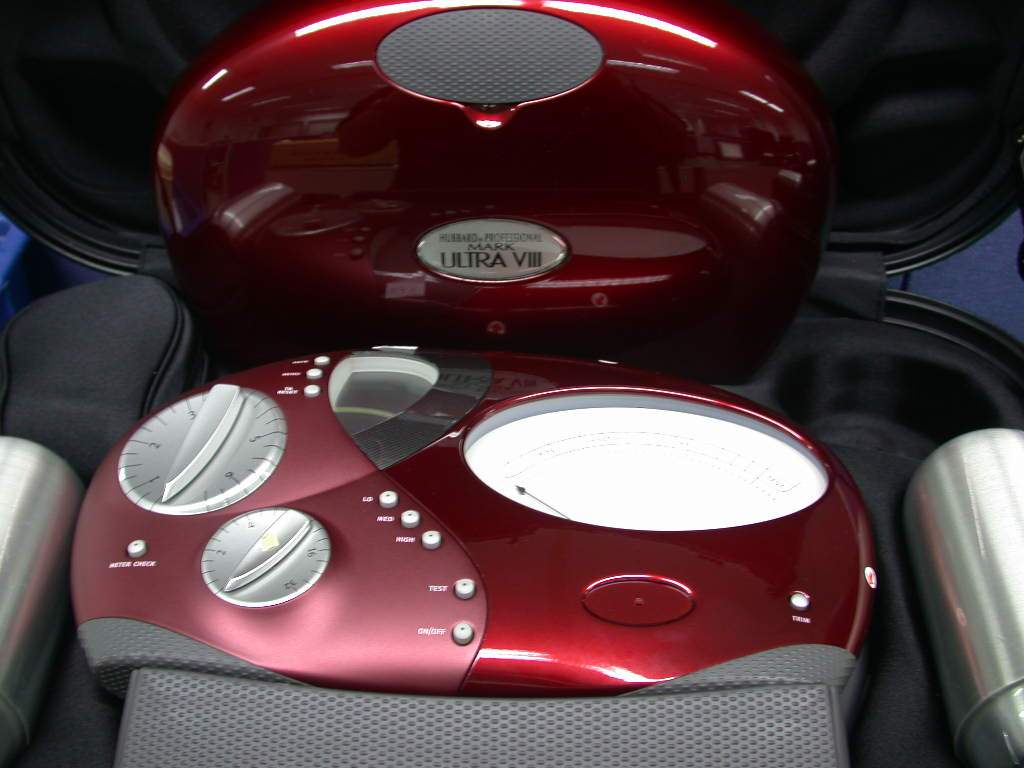 The Mark VIII Ultra E-Meter shown at left (click for larger version), was manufactured in Japan in 2004, on a production line that once made Sony Walkmans. It was finally released in November of 2013.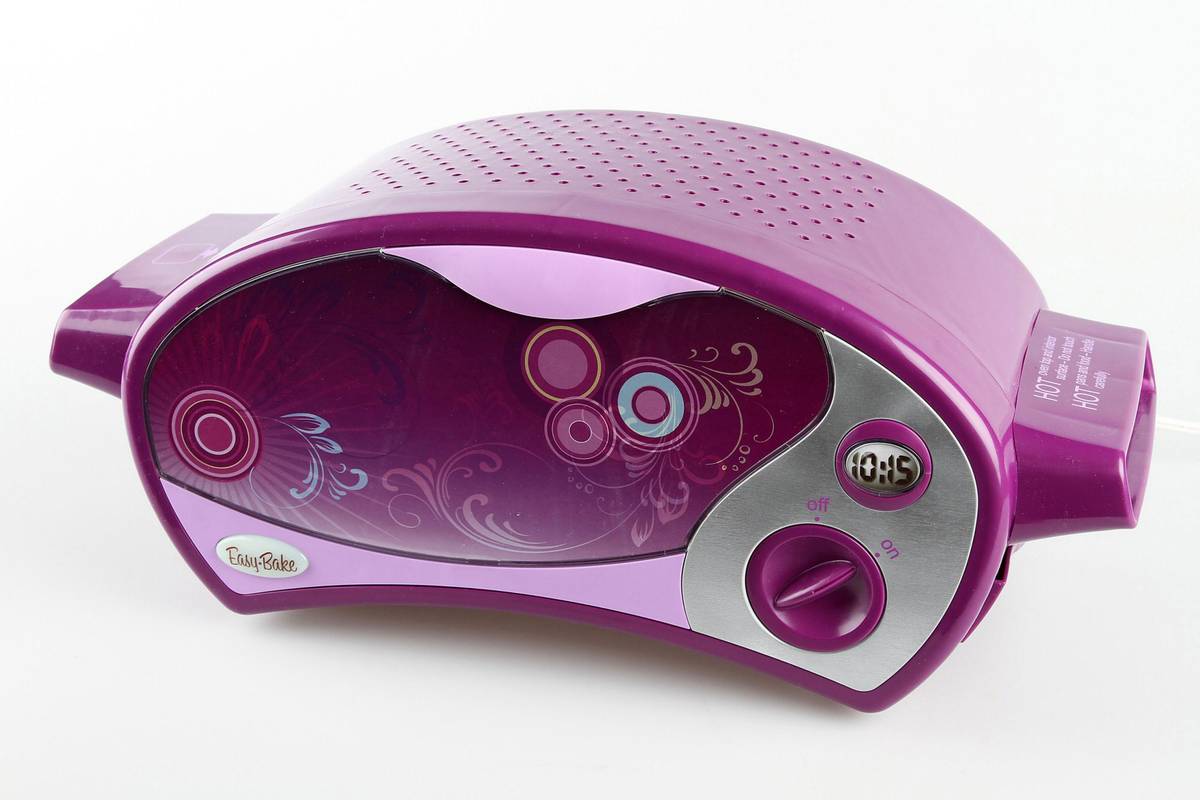 Some folks think the new meter looks a lot like the Easy Bake oven, a popular kid's toy.
Here's a drawing of the meter that came out several years before its release. Look at those cans! The TA counter is visible behind the dark plastic wedge at the top center of the meter. This is Russ Bellin's baby. Too bad he stuck with an old-style serial port connector instead of putting in a USB port. Those all had to be replaced before the meter was finally released.
There were 20,000 of these white elephants sitting in the Bandini warehouse in Los Angeles, awaiting the day when DM decided to release them to the world. That day finally came in November 2013.
For more juicy background details on the meter, read this and this and this.
Here is US Patent #6011992, System for Measuring and Indicating Changes in the Resistance of a Living Body, which covers the Mark VIII Ultra and perhaps some of its predecessors.
E-Meter Maintenance
Battery leakage can be a problem.
Reviews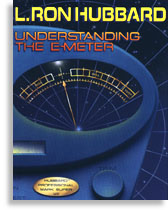 Understanding the E-Meter, an old book by L. Ron Hubbard that Scientology now prints with a more modern sci-fi cover.
Here's the book description from the Church of Scientology's own web site: "Is the theta being inside or outside the mest body or both? How big is a theta being in relation to his body?" The answers aren't very convincing, but it's unusual to see Scientologists even asking loopy questions like this in front of raw public, much less purporting to answer them. Bottom line: $50 buys you a load of comic book physics and a revealing look at what constitutes a "scientific explanation" in the cult of Scientology.
The Book of E-Meter Drills. Compiled by Mary Sue Hubbard, who later went to jail for a long list of crimes including bugging the IRS and stealing files from the FBI. Her husband L. Ron Hubbard was named as an un-indicted co-conspirator.
The Book Introducing the E-Meter. This title no longer seems to be offered by Bridge Publications, but used copies are still available.
CoS and Totalitarianism, by Laura Kay Fuller. This excerpt is the section on Technology, which focuses on the E-meter. The full thesis is available here.
E-Meter Humor
A Fictional E-Meter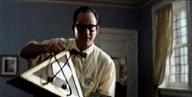 Peter Alexander's Scientology parody, an independent film called The Profit, features a device called a "mind meter" that is modeled after Scientology's own E-meter. You can see more pictures at The Profit: the Movie Scientology Won't Let You See. The movie's official web site is www.TheProfit.org.