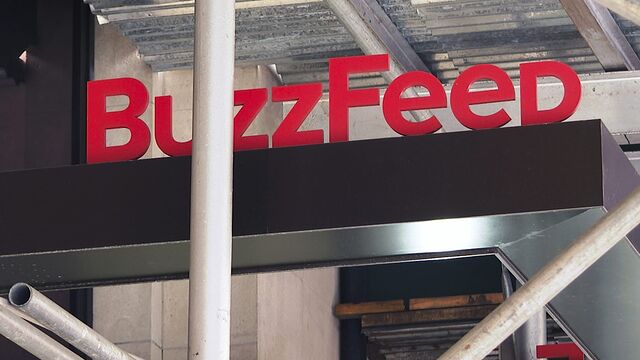 FILE – The entrance to BuzzFeed in New York is seen on Nov. 19, 2020. BuzzFeed is cutting 12% of its workforce, citing worsening economic conditions. (AP Photo/Ted Shaffrey, File)
News, quiz and games website BuzzFeed plans to use artificial intelligence (AI) in the coming months to create content, the company's top executive said this week.
In a memo sent to staff, BuzzFeed Chief Executive Jonah Peretti said the company will be aiming to "lead the future of AI-powered content" and "maximize the creativity of our writers, producers, and creators and our business."
"If the past 15 years of the internet have been defined by algorithmic feeds that curate and recommend content, the next 15 years will be defined by AI and data helping create, personalize, and animate the content itself," Peretti said in the memo, which was reviewed by The Hill on Thursday. "Our industry will expand beyond AI-powered curation (feeds), to AI-powered creation (content). AI opens up a new era of creativity, where creative humans like us play a key role providing the ideas, cultural currency, inspired prompts, IP, and formats that come to life using the newest technologies."
BuzzFeed plans to publish AI-inspired content as part of what Peretti said would be its "core business," enhancing the quiz experience, informing the outlet's brainstorming and personalizing its content.
Other media companies have also experimented with using artificial intelligence to create content in recent weeks.
News outlet CNET this week paused using the technology after it issued a series of corrections on content generated by the new AI software.
The trend also comes as a number of major media companies conduct massive layoffs and partake in other cost-cutting measures, citing economic concerns. BuzzFeed laid off a reported 12 percent of its workforce last month.
"We'll fight for revenue and manage costs through this recession. We'll build the best platform for creators. We'll lead the future of AI-powered content. Throughout it all, we'll stay true to our mission," Peretti wrote in his memo. "Together we can build the future of media. It will be a worthy challenge and an exciting adventure."
https://thehill.com/homenews/3832000-buzzfeed-to-use-ai-to-produce-select-content/