'Silent majority' of car industry is concerned about electric vehicles
Toyota chief Akio Toyoda warns that industry must be open to other options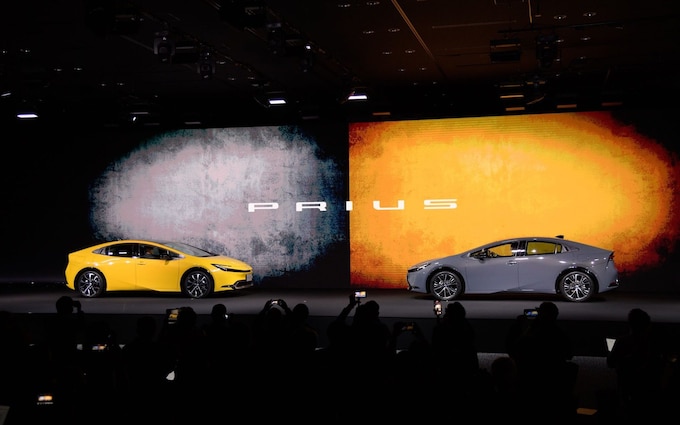 Toyota launched six new electric cars earlier this month, including a new Prius hybrid model CREDIT: Akio Kon/Bloomberg
A "silent majority" of car companies is concerned that electric vehicles will not alone be able to end reliance on fossil fuels, according to a senior Toyota executive.
Akio Toyoda, the company's president and grandson of its founder Kiichiro Toyoda, said that many concerned senior figures are reluctant to say what they really think because of the pressure to go green.
It comes as the industry struggles to ditch petrol and diesel, in the face of materials shortages and complex processes that have kept the cost of building electric cars high.
In comments on a visit to Thailand first reported by the Wall Street Journal, Mr Toyoda said: "People involved in the auto industry are largely a silent majority.
"That silent majority is wondering whether EVs [electric vehicles] are really OK to have as a single option. But they think it's the trend so they can't speak out loudly."
The comments came weeks after Toyota launched six new electric models in a sign which appeared to indicate it had shifted away from a previous bet on hydrogen as the green fuel of the future.
Rival carmakers have set timetables to end fossil fuel car production, with General Motors and Honda planning a full switch to battery powered cars. Meanwhile Tesla has enjoyed exponential sales growth in a sign of consumer enthusiasm.
But the slow growth of lithium production and other potential bottlenecks such as the supply of rare earth metals, which are largely found in China, could price some buyers out of electric vehicles.
Toyota has long backed the hybrid technology found in its Prius model and hydrogen as other options to cut carbon dioxide emissions.
Mr Toyoda said: "Because the right answer is still unclear, we shouldn't limit ourselves to just one option."
Toyota is not alone in hedging its bets. In May, the French company Renault said it will bring Europe's first hydrogen-powered family car to the market by 2030 as part of a planned return of the Scenic model.
While electricity in Britain is increasingly generated from wind and solar power, large nations with big and growing driving populations, such as India and China, still get much of their energy from burning coal - meaning electric vehicles charged there will still contribute to global warming.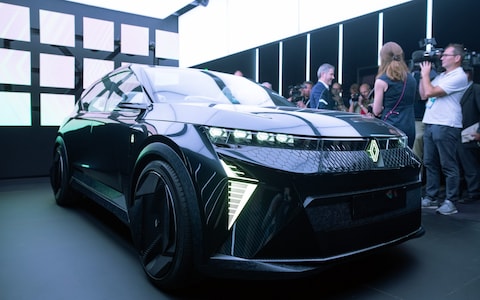 Renault announced Europe's first hydrogen-powered family car earlier this year CREDIT: Benjamin Girette/Bloomberg
Toyota risks leaving itself out in the cold as electric car pickup starts to expand, which could be a very costly mistake, said David Bailey, a car industry expert at Birmingham University.
He said: "Toyota misjudged the transition, aiming instead at hybrids short to medium term and hydrogen long term.
"They are now playing catchup on EVs, having been blindsided by firms like Tesla on one side and regulators keen to cut CO2 emissions on the other."
While a large distribution network for electricity already exists, hydrogen has no such capacity to provide a ready fuel source to millions of cars, he added.
Mr Bailey said: "Hydrogen may well have a future in commercial vehicles and perhaps luxury cars, but car makers can't afford to make bets on multiple fuel options and the mass industry is going for EVs."
Rival Nissan, which bet on the all-electric Leaf a decade ago rather than follow Toyota into hybrids, is in the middle of an $18bn spending spree on electrifying its fleet.
Two weeks ago, Toyota said it would sell six new plug-ins in Europe by 2026 as part of a plan to comply with targets within the bloc to phase out petrol and diesel sales by 2035.
The company threw its weight behind hydrogen in 2014 when it launched the Mirai, a large family car with a range of more than 300 miles.
But the fuel has not enjoyed a wide take-up. Despite faster refuelling than for battery cars, hydrogen pumps are few and far between and the gas has been largely confined to buses since they share a common depot where fitting a hydrogen pump may be cost effective.
So-called green hydrogen is made by separating water molecules into hydrogen and oxygen using electricity from renewable sources such as wind. This adds an extra step when the same electricity can simply be used to charge a battery, making hydrogen a potentially more expensive solution. It is also hard to store.
Mr Bailey said: "These comments risk clouding Toyota's commitment to EVs at exactly the time they need to convince consumers they've now got it. Not exactly a clever marketing strategy."