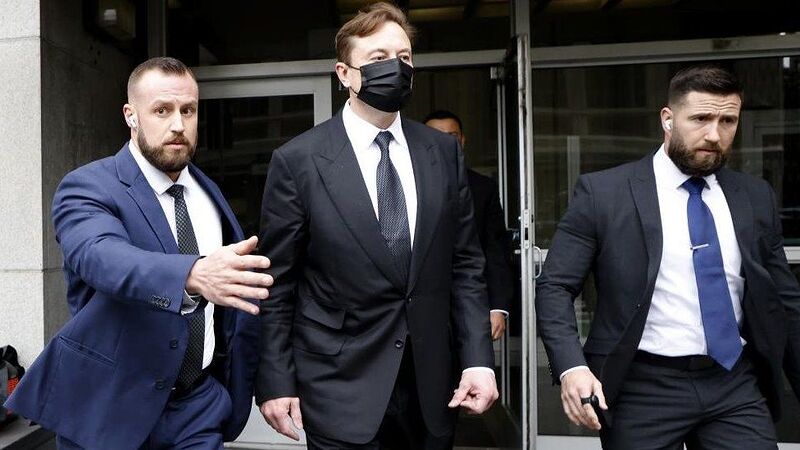 IMAGE SOURCE,EPA
Tesla founder Elon Musk has been cleared of wrongdoing for a tweet in which he said he had "funding secured" to take the electric carmaker private.
Mr Musk faced a class-action lawsuit filed on behalf of Tesla shareholders who argued he misled them with his posts in August 2018.
The proposed $72bn (£60bn) buyout never materialised.
If the San Francisco jury had found Mr Musk liable he could have been ordered to pay billions of dollars in damages.
It took the nine jurors less than two hours to reach their verdict on Friday afternoon.
Central to the lawsuit was Mr Musk's tweet on 7 August 2018 that he was considering taking Tesla private at $420 per share, and had "funding secured".
The plaintiffs also argued Mr Musk had lied when he tweeted later in the day that "investor support is confirmed".
The stock price surged after the tweets, but fell back again within days as it became clear the deal would not go through.
Investor losses were calculated as high as $12bn, according to an economist hired by the shareholders.
The US Securities and Exchange Commission (SEC) sued Mr Musk over his tweets, accusing him of lying to investors. He and Tesla settled for $20m each.
During the three-week trial, Mr Musk - who also leads SpaceX and Twitter - had argued he thought he had a verbal commitment from Saudi Arabia's sovereign wealth fund for the deal.
During his nearly nine hours on the witness stand, the world's second-richest man said: "Just because I tweet something does not mean people believe it or will act accordingly."
In closing arguments earlier on Friday, he sat in court listening as duelling portraits were drawn of him by the rival legal teams.
Nicholas Porritt, a lawyer for the Tesla shareholders, said: "Our society is based on rules. We need rules to save us from anarchy. Rules should apply to Elon Musk like everyone else."
Mr Musk's attorney, Alex Spiro, said: "Just because it's a bad tweet doesn't make it a fraud."