As Brussels Has Unilaterally "Destroyed" Ties
On the defensive following the latest wave of Western sanctions targeting the two countries, Russia and China are lashing out. Russian Foreign Minister Sergey Lavrov held a press conference to address the spiraling tensions while standing alongside his Chinese counterpart Wang Yi as a show of unity against Western attacks following a meeting in Guilin, China.
This month the European Union (in coordination with the US and others) slapped Navalny-related "human rights violations" sanctions on multiple top Russian officials, while on Monday anti-China sanctions were announced over the Uighur crackdown. And somewhat underreported on the same day were EU sanctions against two Russian officials for "persecuting gay and lesbian people in the southern Russian region of Chechnya."
Lavrov on Tuesday issued his fiercest words yet, declaring the EU has "destroyed" Russia's ability to have relations with Brussels . He said "there are no relations with the EU as an organization . The entire infrastructure of these relations has been destroyed by unilateral decisions made from Brussels ."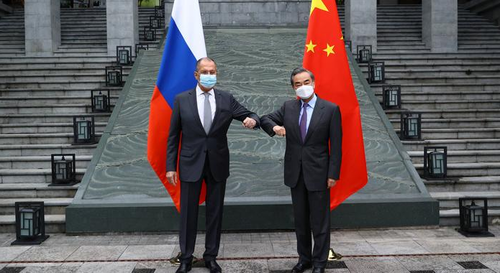 Via Russian Foreign Ministry, TASS

However, he did emphasize that while relations with the bloc are essentially non-existent, a handful of individual countries are still seeking positive ties with Moscow as they remain "guided by their national interests."
"If and when Europeans decide to eliminate these anomalies in contacts with their largest neighbor, of course, we will be ready to build up these relations based on equality," Russia's top diplomat added.
Lavrov went so far as to threaten the breaking off of any diplomatic contact with the EU altogether if it begins attempting to hit "sensitive parts of the economy" with punitive measures, adding the caveat that "of course we do not want to isolate ourselves from living in the world, but we must be ready for this. If you want peace, prepare for war. "
Standing alongside Lavrov, Wang Yi Chinese Foreign Minister similarly rejected outside criticisms and attacks on both governments:
Wang sharply criticized coordinated sanctions against Beijing by the EU, Britain, the US and Canada over human rights abuses against Uyghur Muslims in China's far western Xinjiang region.

"Countries should stand together to oppose all forms of unilateral sanctions," Wang said. "These measures will not be embraced by the international community."

Lavrov said Russia and China both viewed the US as seeking to rely on Cold War military alliances to undermine the "international legal architecture."
Interestingly, Lavrov highlighted that Moscow and Beijing see Washington as attempting to strengthen the West's Cold War military alliances ultimately to undermine developing multi-polarity and the "international legal architecture".
By the time of the Tuesday joint Russia-China press conference, Beijing had retaliated with sanctions of its own on no less than ten European officials and four institutions charged with "damaging China's interests".