Over Microsoft Co-Founder's Affair With Russian Bridge Player
The disgraced financier was trying to set up a philanthropic fund that he hoped would include the billionaire as an anchor donor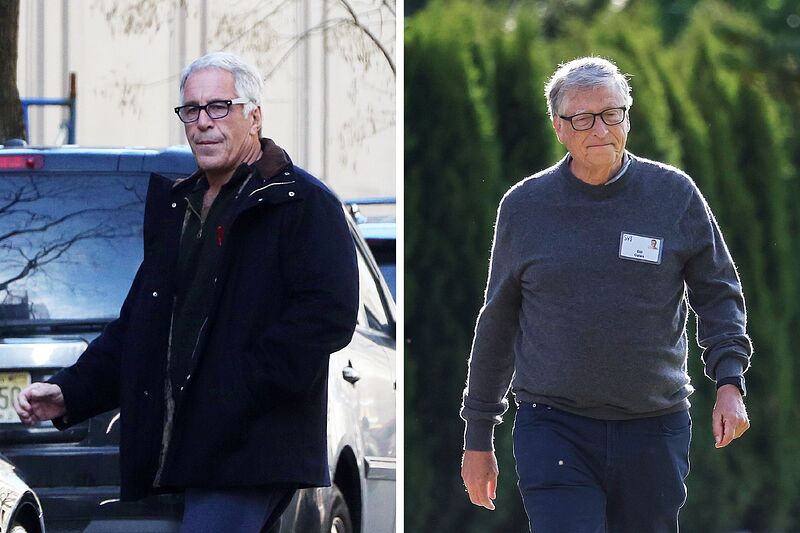 Jeffrey Epstein discovered that Bill Gates had an affair with a Russian bridge player and later appeared to use his knowledge to threaten one of the world's richest men, according to people familiar with the matter.
The Microsoft co-founder met the woman around 2010, when she was in her 20s. Epstein met her in 2013 and later paid for her to attend software coding school. In 2017, Epstein emailed Gates and asked to be reimbursed for the cost of the course, according to the people familiar with the matter.
The email came after the convicted sex offender had struggled and failed to persuade Gates to participate in a multibillion-dollar charitable fund that Epstein tried to establish with JPMorgan Chase. The implication behind the message, according to people who have viewed it, was that Epstein could reveal the affair if Gates didn't keep up an association between the two men.
"Mr. Gates met with Epstein solely for philanthropic purposes. Having failed repeatedly to draw Mr. Gates beyond these matters, Epstein tried unsuccessfully to leverage a past relationship to threaten Mr. Gates," said a spokeswoman for Gates.
Epstein was accused in 2006 of sexually abusing girls as young as 14 and pleaded guilty in 2008 to soliciting and procuring a minor for prostitution. He spent time in a Florida jail and registered as a sex offender. After the Miami Herald reported on dozens more women who said they were abused, he was arrested in 2019 on sex trafficking charges. He died later that year in jail while awaiting trial in what the medical examiner ruled was a suicide.
Gates, 67 years old, a technology adviser to Microsoft and one of its largest shareholders, has said he met Epstein a few times only to discuss philanthropy, which he regrets and calls a mistake.
Mila Antonova, the Russian bridge player, declined to comment on Gates and said she didn't know who Epstein was when they met. "I had no idea that he was a criminal or had any ulterior motive," she said of Epstein. "I just thought he was a successful businessman and wanted to help." She added: "I am disgusted with Epstein and what he did."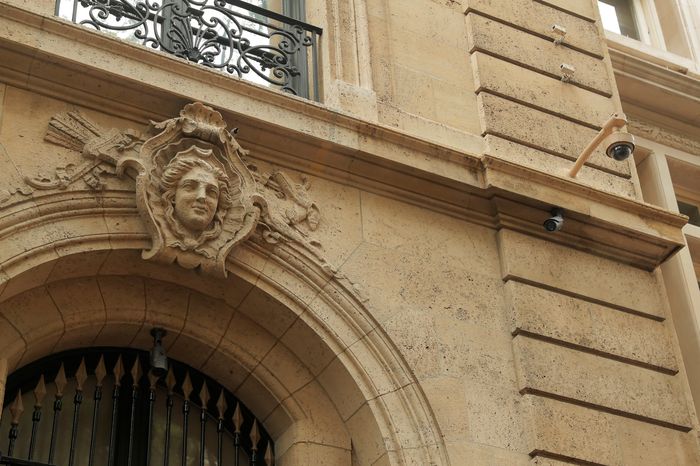 The facade of Jeffrey Epstein's home in Manhattan. PHOTO: LUCAS JACKSON/REUTERS
The new details about Epstein and Gates reveal a layer of complexity to their relationship, and shed new light on how Epstein operated. In the years between his 2008 conviction and death, Epstein packed his days meeting with politicians, businessmen, academics and celebrities. He provided favors and sought to use the connections for his own purposes. And when the relationships soured, he could turn against people.
Gates, with a net worth in excess of $100 billion and one of the world's biggest philanthropists, was among the most well-known names in Epstein's calendar.
Starting in 2011, Gates had more than a half dozen meetings scheduled with Epstein, including dinners at Epstein's New York townhouse, documents show. Gates flew on Epstein's private plane from New Jersey to Florida in March 2013, according to flight records. That same month the two men met in France with an official on the Nobel Peace Prize committee. They spent much of a day together in New York City in September 2014 meeting other billionaires, the Journal reported.
Bridge Lessons
Gates has said he learned to play bridge from his parents, and the card game became one of his favorite hobbies. Gates played with Antonova, another devotee of the game. She attended a university in Russia between 2000 and 2005, according to her LinkedIn profile. She later founded a bridge club in the U.S. before taking on several roles as a software engineer in the Bay Area, her LinkedIn profile shows.
In a video posted online in 2010, Antonova talked about meeting Gates at a bridge tournament and playing against the Microsoft co-founder. "I didn't beat him but I tried to kick him with my leg," she said in the video.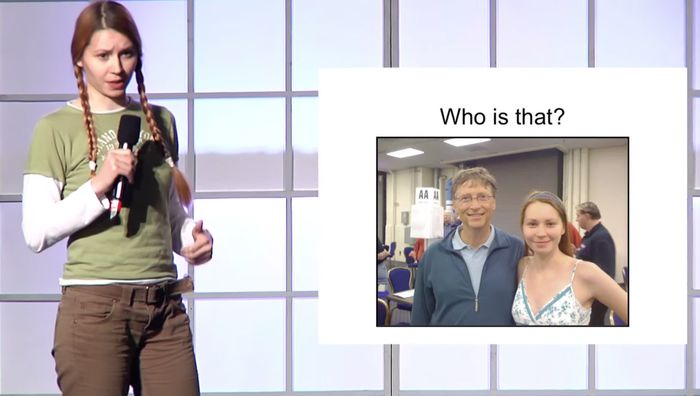 Mila Antonova discussed playing bridge with Bill Gates in a video posted online.
Antonova had an idea to start an online business to teach people how to play bridge and she sought funds for it, according to documents viewed by The Wall Street Journal. Boris Nikolic, a Gates confidant and top science adviser at the time, who also knew Epstein, introduced Antonova to Epstein to help her raise the funds, the documents show.
Nikolic said when he first met Epstein, it was in his capacity as Gates's scientific adviser and they discussed philanthropic proposals. "I deeply regret that I ever met Epstein," Nikolic said. "His crimes were despicable. I never saw anything like his illegal behavior. My heart goes out to his victims and their families."
Antonova and Nikolic met at Epstein's townhouse in November 2013 where she presented her proposal to Epstein, who provided feedback, documents show. She was looking to raise $500,000 for the venture, which she called BridgePlanet. Its mission was to "promote bridge by creating quality tutorials for beginners and advanced players."
On Nov. 9, Antonova wrote an email to thank Epstein for the meeting and reviewing the proposal. Epstein ultimately didn't invest in the project, Antonova said.
The next year, in November 2014, Antonova stayed briefly at an apartment in New York City provided by Epstein. "I didn't interact with him or with anyone else while there," she said.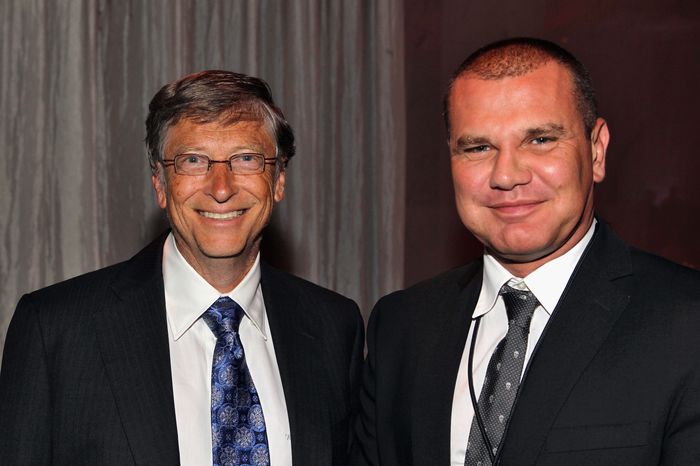 Bill Gates, left, and Boris Nikolic, one of his key advisers. PHOTO: PAUL MORIGI/GETTY IMAGES
After she failed to secure funding for BridgePlanet, Antonova said she decided to become a software programmer, and asked several people to lend her money for a programming boot camp.
"Epstein agreed to pay and he paid directly to the school. Nothing was exchanged. I don't know why he did that," she said. "When I asked, he said something like, he was wealthy and wanted to help people when he could."
JPMorgan Connection
While he was meeting with Gates, Epstein also had multiple meetings scheduled with other people close to Gates, including Nikolic, former Microsoft executive Nathan Myhrvold and Gates Foundation staffer Melanie Walker, the documents show.
"Mr. Epstein was a regular at TED conferences and he was a large donor to basic scientific research. That is how and why Nathan knew him and that's exactly where their association ends," said a spokeswoman for Myhrvold.
"I should never have associated with him—and now I am thankful that he never invested in my endeavors," said Nikolic. A spokesman for Ms. Walker declined to comment on her meetings with Epstein.
At the time, Epstein was trying to set up a multibillion-dollar charitable fund with JPMorgan that would potentially pool money from some of the world's wealthiest people. Epstein proposed that JPMorgan set up the fund with a minimum $100 million contribution per individual and pay him millions of dollars in fees, the documents show. In addition to the fees, the disgraced financier saw the fund as a way to rehabilitate his reputation, according to people he told of his thinking. It hinged on securing support from Gates, the documents show.
Epstein's messages, which were peppered with typos and spelling errors, tried to give the impression that he was a close Gates adviser. Gates wasn't included on emails reviewed by the Journal. The Gates spokeswoman has said Epstein never worked for Gates and misrepresented their ties in communications with JPMorgan and others.
"In essence this [fund] will allow Bill to have access to higher quality people , investment , allocation , governance without upsetting either his marriage or the sensitvites of the current foundation employees," Epstein wrote on Aug. 16, 2011 to two top JPMorgan executives, Jes Staley and Mary Erdoes.
The next day Epstein wrote, "Bill is terribly frustrated. He woud! like to boost some of the things that are working without taking away from thoses that are not."
On Oct. 2, he sent another email to Staley and Erdoes criticizing a presentation that JPMorgan had prepared on the project. "the presentation , is not tailored to bill… He is the only person , the only one, that counts."
The charitable fund never got off the ground. "The firm didn't need him as a client," a JPMorgan spokesman said of Epstein. "The firm didn't need him for introductions. Knowing what we know today, we wish we had never done business with him." A spokesman for the bank said Erdoes declined to comment. A lawyer for Staley, who is no longer at JPMorgan, didn't respond to a request for comment. Staley has previously said he regrets his friendship with Epstein.
Relationship Troubles
While he was working on the charitable fund, Epstein met in 2013 with Gates and Norwegian officials who were visitors to Epstein's townhouse. Epstein told one former Gates Foundation employee that he knew the Norwegians, and could help Gates win a Nobel Peace Prize for his efforts to eradicate polio.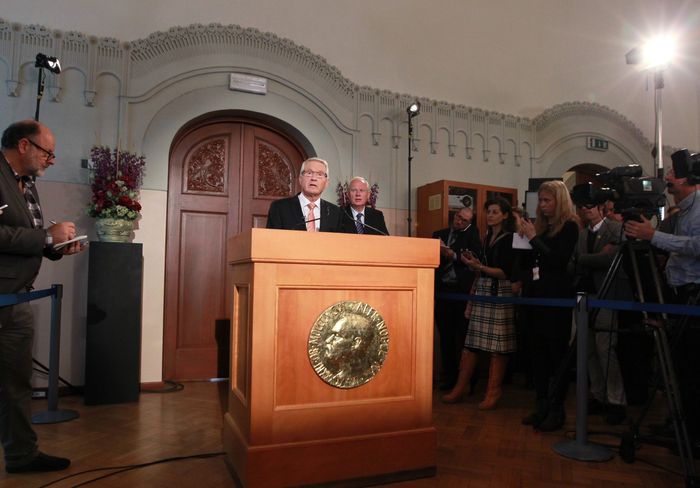 Thorbjørn Jagland was scheduled to meet Gates and Epstein at the latter's townhouse when he was chairman of the Nobel Peace Prize committee. PHOTO: VEGARD WIVESTAD GROTT/AFP/GETTY IMAGES
Gates and Epstein met together in March in Strasbourg, France, at the home of Thorbjørn Jagland, then chair of the Nobel Peace Prize committee. That September, Epstein scheduled a meeting with Gates, Jagland and others at his townhouse, the documents show.
"Our documents show that Mr. Gates met with Norwegian officials to discuss the security situation in Afghanistan as part of Mr. Gates' work on polio eradication," said the Gates spokeswoman. "Mr. Gates has never been focused on or campaigned for the Nobel Peace Prize, or any other prize." Jagland didn't respond to requests for comment. He has previously said the prize wasn't a topic for discussion during the Strasbourg meeting.
Several years of discussions with JPMorgan, Gates and others failed to yield the charitable fund for Epstein or Gates's commitment to it.