I watched this today. Ouch!
Her cold confident look just evaporated today, she's done.
Her ex friend really helped her today. I think both Depp and Heard used to abuse each other. However, only he paid the price for the abuse.
Raquel Pennington was very credible. She made Heards case today.
Yes they were saying the Jury really took notice of them both, there's still an awful lot of speculation there that Depp's team can quite easily rebuff.
I was immediately drawn to this once I saw her acting out how she was pulled by the hair a couple of weeks ago. I saw this and just thought "whoa, this is definitely utter bullshit" and back then, they bought it!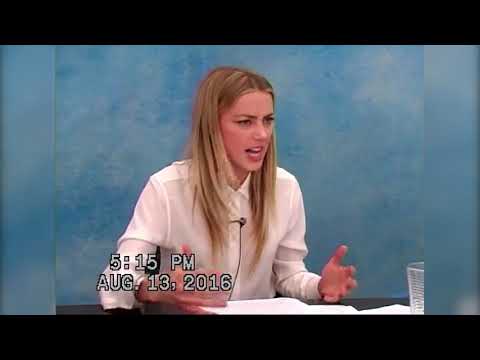 But then the one about the 2 photos and how blatantly obvious it was that they were the same threw it for definite. That said, I don't see either winning, simply because it was a defamation lawsuit and Disney, the main resource of funds, covered their arses.
I love it though, seeing someone who's manipulative and using BPD/HPD to get what they want and then getting their arses handed to them.
Her acting today was terrible, one minute (no tears again) she looked like the only victim in the world then a split second later she was back to her usual shark eyed self.
Is that the one with this in it? The guy testifying it came from the source?
Here is the clip of Amber apologising for throwing trans:
It disgusts me how she kept using the phrase "a powerful man" at the end of being confronted by Camille. And I may have a thing for Camille now


Wait! This is definitely it now. Apparently it was taken off (a 4 minute video), I suspect due to being off limits evidence due to the guy in it being dead now.
Ah, finally, here's a full in-depth version of the above. Took a while trying to work out which clip it was.
What a fucking piece of work.